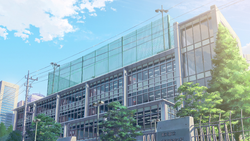 Jingu High School (神宮高校, Jingū Kōkō?) is a senior high school located in and serving the Shinjuku, Tokyo area. Taki, Tsukasa, and Shinta attended here in 2016.
Features
Edit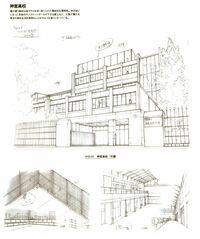 Jingu is a very bright and airy building, as it comes with glass windows, glass roofs and glass balustrades, allowing the sun to shine most of the building. The school has 5 stories, with an accessible netted rooftop which acts like a playground for students to use their lunch or play sports after classes.
Taki's class seems to lie on the second story. Classrooms in this part of the school open to a corridor that can look down on a common area in the center.
Uniform of this high school consists of a white dress shirt featuring the school's logo with green cuffs and a striped green tie. Male students wear dark gray pants while the girls wear a black skirt. Students seem to have to wear green socks and loafers as well.
The uniform also includes a dark blue jacket, which also has the school logo, apparently only worn occasionally, like in test days.
Real-life location
Edit
While the school is fictional, it is likely based on the Aoyama High School (青山高校, Aoyama Kōkō?), whose coordinates are 35°40'21.9"N 139°42'58.5"E.